COPYRIGHT NOTICE
All graphics, photographs, and text appearing on the VADCON, Inc. website and related websites are protected by copyright. Redistribution or commercial use is prohibited without express written permission.
PRICING
Prices are subject to change without notice. All prices listed in United States Currency. VADCON, Inc. is not responsible for typographical errors.
ORDER ACCEPTANCE
All orders are subject to approval by VADCON, Inc. Placement of order constitutes that customer is familiar with and agrees to terms of sale.
SALES TAX
Orders being delivered, or picked up within the state of New York will have appropriate sales tax added to their invoice.
If tax exempt please fax or E-mail a copy of your exemption certificate to VADCON, Inc. along with your order.
CUSTOM'S FEES/VAT/IMPORT TAXES
The amounts shown do not include any custom's fees, duties, taxes, etc. that may be due prior to delivery. The receiver will be responsible for any fees charged to import an item. We cannot alter any invoices to reflect different pricing for custom's clearance - this is illegal as per the US export guidelines and as a company we could face fines, as well as the receiver.
ORDER FEES
VADCON, Inc. only charges order fees for orders to be paid by Wire transfer.
The fee schedule for Wire Transfers is as follows:
Order total $0 to $399 - $50 service charge.
Order total $400 to $699 - $45 service charge.
Order total $700 to $999 - $40 service charge.
Order total $1000 to $1299 - $35 service charge.
Order total $1300 to $1599 - $30 service charge.
Order total $1600 to $1899 - $25 service charge.
Order total $1900 to $2199 - $20 service charge.
Order total $2200 to $2499 - $15 service charge.
Order total over $2500 - $10 service charge.
Customer pays the Originating Bank's Fees.
F.O.B.
Warehouse: Rochester, New York
CREDIT CARD ORDERS
At Vadcon's discretion, certain additional information may be requested in order to gain credit card approval. Vadcon may request proof of billing information and a copy of the front and back of the applicable credit card. Should you choose not to provide the additional documentation you will still be able to pay for your order via wire transfer, certified check, or verified PayPal account.
PAYPAL ORDERS
PayPal orders must ship to the address associated with the PayPal account. If the address you want shipped to is not yet associated with PayPal please add it to your account - once added send us the confirmation from PayPal and we will be able to ship to that address.
NET TERMS
Net 30 terms are available to approved accounts. To open an account review this page. Invoices not paid within 30 days of invoice date are subject to an additional charge per billing cycle. Providing a valid, major credit card may be required in order to receive initial net 30 terms. Any Net 30 account not paid within 60 days of the first invoice date will have the total charged to provided credit card for total amount due plus the late fee charge. Unpaid late fees will result in all future orders required to be prepaid until account is brought to current.
WARRANTY
VADCON, Inc. warrants their products to be free of defects in materials and workmanship to the original purchaser for a period of 90 days from the date of purchase. In the event of such a defect, VADCON, Inc. will replace or repair the product at our option. This warranty only applies to products used for their original intent. This warranty does not cover and is void on any product that in our opinion has been improperly used, installed, abused, or altered in any manner. VADCON, Inc. assumes no liability with respect to use of its products. This warranty does not cover consequential damages, incidental damages or expenses, or injury to person(s) and/or property(s).
Note - Items damaged in transit are not considered defective - see "Damages" below.
DAMAGES
Damages within shipment must be noted upon delivery and a claim must filed with the carrier within 2 business days. Retain original carton and mark any visible packaging damages on freight tickets.
SHORTAGES
In the event of a shortage you must notify VADCON, Inc. within 2 business days of receiving shipment. Retain original carton and note any visible tampering.
RETURNED CHECKS
We do not accept personal checks. In the event of a returned business check there is a $50 returned check fee in addition to any other fees incurred. Please note that product does not ship until checks clear and all fees are paid.
PAST DUE ACCOUNTS
Any accounts over 60 days will be shipped prepaid only. Accounts over 90 days will be notified and turned over for collection 10 days after notification. Customer is responsible for for all fees incurred in order to collect past due accounts. Unpaid late frees from previous past due invoices will result in future orders requiring prepayment.
FINANCE CHARGES
All invoices show the amount due based on the date past original 30 day payment due date.
RETURNS/REFUNDS/EXCHANGES
Please visit this page for our most current return/refund/exchange policy.
---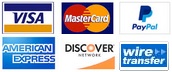 VADCON, Inc.
PO Box 92414
Rochester, NY 14692
Phone: 800-899-9855