At shipping time we enter the email address that was submitted to us at the time of order into the FedEx or USPS shipping manager.
FedEx or USPS will send you emails with tracking information.
If you have not received any tracking emails from FedEx or USPS please check your spam folder.
Most orders will ship via FedEx and can be tracked by reference using the link below.
1) Where it says enter Reference - Enter your order number
2) Ship Date - Can be left alone, or adjusted as needed
3) Destination Country - Enter the country the order is shipping to
4) Destination Postal Code - Enter the postal/zip code the order is shipping to
5) Press the "Track" button
Feel free to contact us at any time to help track your order.
---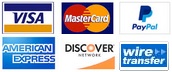 VADCON, Inc.
PO Box 92414
Rochester, NY 14692
Phone: 800-899-9855
Fax: 888-686-4686