CLICK FOR MORE HARDWARE

Hex Nuts are used for mounting Gender Changers.
Each Gender Changer requires 2 Jack Screws & 2 Hex Nuts.
NOTE! - It is very easy to over-tighten and strip threads so you may want a few extras!

Stock Number: H10BI80DC
1-99 $.12 ea.
100+ $.11 ea.
Weight - .01
D Code-1
---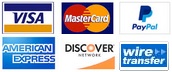 VADCON, Inc.
PO Box 92414
Rochester, NY 14692
Phone: 800-899-9855
Fax: 888-686-4686