Clearance Items - Closeouts - Overstocks - Specials
CLICK FOR MORE CLEARANCE ITEMS
A RF Modulator is an electronic device for converting audio/video signals into a RF (radio frequency) signal. RF modulators are used to connect DVD players, video game systems, camcorders and other video components to TV sets without Audio/Video inputs. The connection is made from the DVD (or other component) a/v outputs to the RF Modulator and from the RF Modulator to the TV's antenna input jack.
Combines audio/video line-level signals into an RF output signal. (necessary for televisions with only a 75-ohm RF coaxial input)
Separate antenna/cable TV input. (eliminates the need for switching cables back and forth)
Channel 3 or 4 output selector switch. (ensures compatibility with most televisions)
Auto sensing A/B switch. (automatically switches back and forth between antenna and video source)
Back of RF Modulator box: The DVD Player, video game, camcorder, etc. connects to the yellow, red, white RCA jacks and the silver coaxial cable connection goes to the TV antenna input. The antenna IN connection on the box can be the cable TV source directly or from a VCR.
Recoton V647 RF Modulator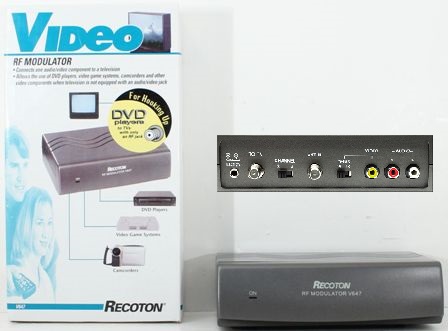 Stock Number: 2600130
$9.99 ea.
Only 3 Left!
Weight - 1.02
D Code-3
---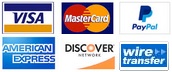 VADCON, Inc.
PO Box 92414
Rochester, NY 14692
Phone: 800-899-9855
Fax: 888-686-4686