XLR Panel Mounts - Solderless Screw Terminals Rear
CLICK FOR MORE XLR CONNECTORS AND ADAPTERS
Common Questions & Answers
1 Other XLR Connectors and Adapters? - XLR Connector and Adapter Menu
2 Connector Wiring Diagram? - Neutrik Wiring Diagrams
3 Mounting Hole size explanation? - Why the mounting hole sizes are noted - Hole Specs
4 XLR Connectors In Stock? - XLR Panel Mount Solder Connectors are generally in stock and ready to ship, but inventory does change daily. Feel free to contact us to confirm your immediate needs.
Neutrik 3 Pin XLR Panel Mount Solderless Connectors
No Soldering Required!
Connectors have screw terminals that accommodate a wire range of: AWG 26 - 20.


Stock Number: NC3FD-S-1-B
1-99 $7.49 ea.
100+ $7.12 ea.
Mounting Hole - D Series
Weight - .06
D Code-2


Stock Number: NC3MD-S-1-B
1-99 $7.49 ea.
100+ $7.12 ea.
Mounting Hole - D Series
Weight - .06
D Code-2
---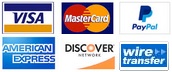 VADCON, Inc.
PO Box 92414
Rochester, NY 14692
Phone: 800-899-9855
Fax: 888-686-4686