Binding Post Patch Panels - Pomona
CLICK FOR MORE BINDING POST PATCH PANELS

Binding Posts accept standard banana plug, wire or spade lug.
Features the standard US spacing of 3/4 inch (19.05 mm).
RATINGS:
Operating Voltage:
Hands free usage in controlled voltage environments: 2500 Vrms maximum.
For CE compliance: not intended for hand-held use at voltage above 33 Vrms/70 Vdc.
Operating Temperature: +239ºF (+115ºC) Max.
Current: 15 Amperes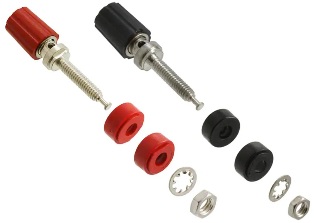 Panels are loaded with Pomona Binding Posts - Series 3760.
Standard Colors are Red & Black.
By special request other colors can be quoted:
Orange, Yellow, Green, Blue, Violet, Gray, and White.
Common Questions & Answers
1 Other Binding Post Patch Panels? - Binding Post Patch Panel Menu
2 Patch Panel sizes and connector spacing? - Panel Specs
3 Hole size used in these panels? - Hole size is 3/8 D Hole Specs
4 Other Connectors? - Connectors are easily replaced with other 3/8 D Connectors
5 Panels In Stock? - Pomona Binding Post Patch Panels are generally in stock and ready to ship, but inventory does change daily. Feel free to contact us to confirm your immediate needs.
Binding Posts Patch Panels - Pomona
1RU 32 Port Binding Post Patch Panel - Pomona
Stock Number: PPQ132-BPP
1-9 $327.67 ea.
10+ $311.29 ea.
25+ $303.09 ea.
50+ $294.90 ea.
100+ $286.71 ea.
Weight - 2.00
Hole Size - 3/8 D
D Code-1
Panels Made In The USA

Accessory and Hardware Links
---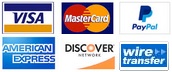 VADCON, Inc.
PO Box 92414
Rochester, NY 14692
Phone: 800-899-9855
Fax: 888-411-0343