PPE212-NB-V2 - 2RU 12 Port N Patch Panel
This version has the top row inset first on the front - our regular version has the bottom row inset first.
The inset of the top row is the only difference from our regular version.
These were extras from a custom project and we have 4 left in stock.

Front

Rear
Panels Made In The USA

Specs & Info
Material
16 gauge cold rolled galvannealed steel
Finish
Black powder coat
Height x Width
2RU (3.469") x 19"
19" Rack Mountable?
Yes
23" Rack Mountable?
Yes - with 2RU Rack Ear Extender Kit
19" Hinged Wall Bracket Mountable?
Yes - with 2RU Hinged Wall Bracket
---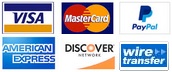 VADCON, Inc.
PO Box 92414
Rochester, NY 14692
Phone: 800-899-9855
Fax: 888-411-0343
Sales@Vadcon.com